A good plan, reading and Estrellas Michelin. Everything Madrid-Barajas Airport can offer you when your flight is delayed
You arrive at the airport with your coworker, your friends or family and, after a while, you have everything ready to take off. You have done the check-in or self-check-in and have passed through the security arch. You are already inside the Adolfo Suárez Madrid-Barajas Airport terminal ready to take the plane to travel to your business destination, take advantage of your vacation and celebrate a friend's birthday or enjoy the summer days with your family somewhere remote that will make you disconnect from everything. And, suddenly, they tell you over the loudspeaker that your flight is late, very late. You have, let's say, three hours ahead of you, which is what happened to one of our teammates the last time she traveled to Formentera from Barcelona-El Prat Airport.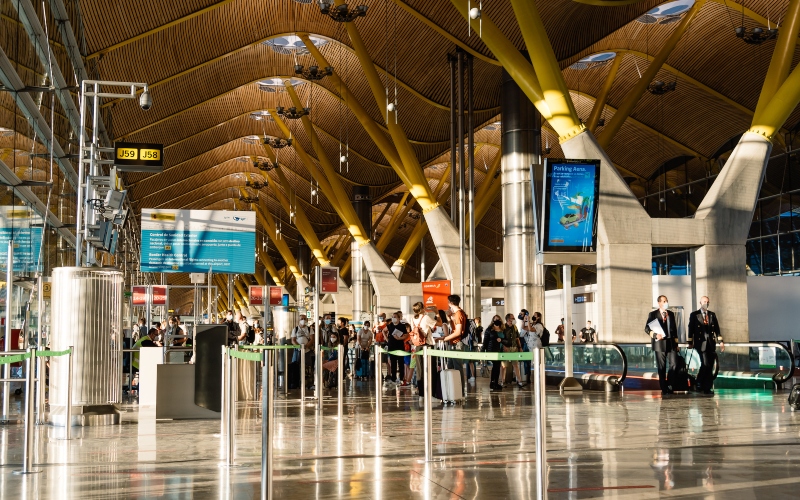 Patience and a good plan
What to do at the Madrid-Barajas Airport, in this case, which is yours, when your flight is so delayed? Wait, yes. Sure. But, in addition to that, you can't even imagine everything the airport has prepared for you in order to make you spend that time as well as possible without climbing its glass walls.
"Patience is the mother of science", as the Spanish saying goes. The purpose is to face in the best way the different opportunities or difficulties that may arise. It is the first thing that, obviously, we will advise you to calm down and draw up a plan so as not to get bored and be active. In addition to getting away from the people who start releasing weather balloons and telling you that if it's going to take longer, if there's a strike, if those from the earlier flight have already left a long time ago, you have to think that you have three hours ahead of you and that you are about to live an exciting trip, even if it is for work, so load yourself with positivism, breathe calmly, meditate and say: "Well, it's not that bad here either and, all in all, what's three hours?"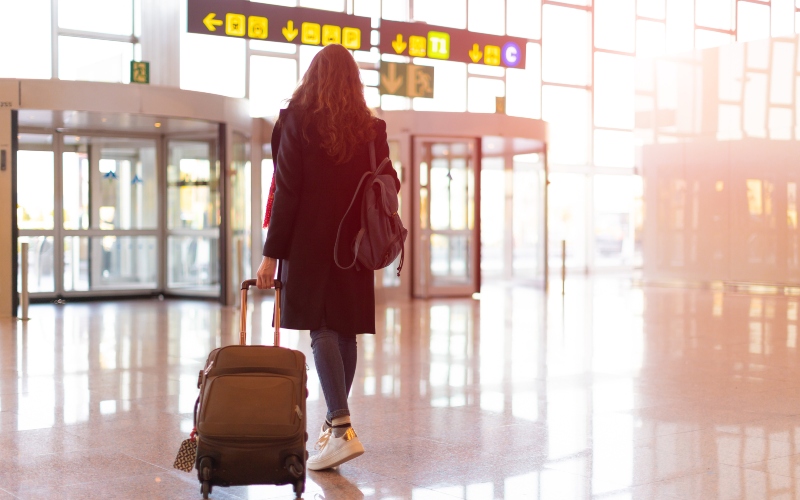 Reading, the best seat and something freak
A good option is to find a good seat away from everything and start reading a book. At the airport you can buy magazines, books, crossword notebooks and newspapers. Think there is everything. Barajas airport consists of four terminals (T1, T2, T3 and T4) and a satellite building (T4S -Satélite-). It is a large airport. The one in Barcelona-El Prat has two terminals, the Charles de Gaulle, three, and the JFK, eight, to give you an idea more or less of what the one in Madrid is like.
Duty free will be your ally during those three hours. The other ally: yourself. Protect and monitor your hand luggage and belongings at all times. If you're hungry, think about the countless restaurants at Adolfo Suárez Madrid-Barajas Airport, some run by Michelin-starred chefs, such as the Clos restaurant, the famous DiverXO or Gaytán.
And many things you don't know, like there is a free personal shopper service, a hairdresser and a nursery. And if you're already bored and want to be a total freak, remember that the mythical yellow columns of T4, the ones that support the bamboo cladding through which the sunlight filters through, seem to be all yellow, but they're not: to the north they turn to cooler colors until they reach blue and to the south they turn to warmer colors until they reach red. Why didn't you stop to look at them?
Eat tuna tartare at Bamboo Sushi Bar
In any case, if after this time at the Madrid-Barajas Airport you feel like coming back another day to find out more about these facilities, even before covid (on the website it says that visits are suspended due to the health crisis), at the airport, technical and educational visits were made to better understand the ins and outs of this great giant. So if one day things return to normal at the airport and you don't know what to do, remember that you can make technical visits, in which you visit Terminal 4 and special facilities such as the SATE (Automatic Baggage Handling System), and educational ones, in those that will guide you through T2, you will be able to see an airplane with an exhibition on the environment and some special installations.
Near the airport you have the Bamboo Sushi Bar restaurant (at Bahía de Almería street, 11) and the Amazonia Chic-Plenilunio (at Aracne street, 3) in case you have time to make a little getaway.
At the airport itself, you can enjoy the Contemporary Art Collection of the Aena Foundation. For example, in T1 you can see the "Rapto de Europa" by Fernando Botero. You also have the official Real Madrid store, the Adolfo Domínguez store, Carolina Herrera, Parfois, Salvatore Ferragamo, El Ganso, Sunglass Hut, etc.
For the little ones
For the children, as the official tourism website of the city of Madrid reminds us, Es Madrid, on the first floor of T2 there is a children's play area and in the union-boarding building in zone C there is a children's playroom and another on the first floor of T4.
There are also Wi-Fi zones throughout the airport and IFEMA is close by if you are traveling on business. If you are a VIP client, you will be able to enjoy this area, its catering, the press and Wi-Fi and you will be able to rest in one of the six VIP rooms. In addition, the airport has numerous offices to exchange currency distributed in T1, T3, T4 and T4S.
After those three hours, they will announce your return again, but this time so that you can go to the boarding gate and so that your business or pleasure trip begins after having enjoyed a good time at the airport.
Categories
Airport, Tips, Travellers
Tags
Airport, cues, travellers, tricks, Passengers