Why you should download our App?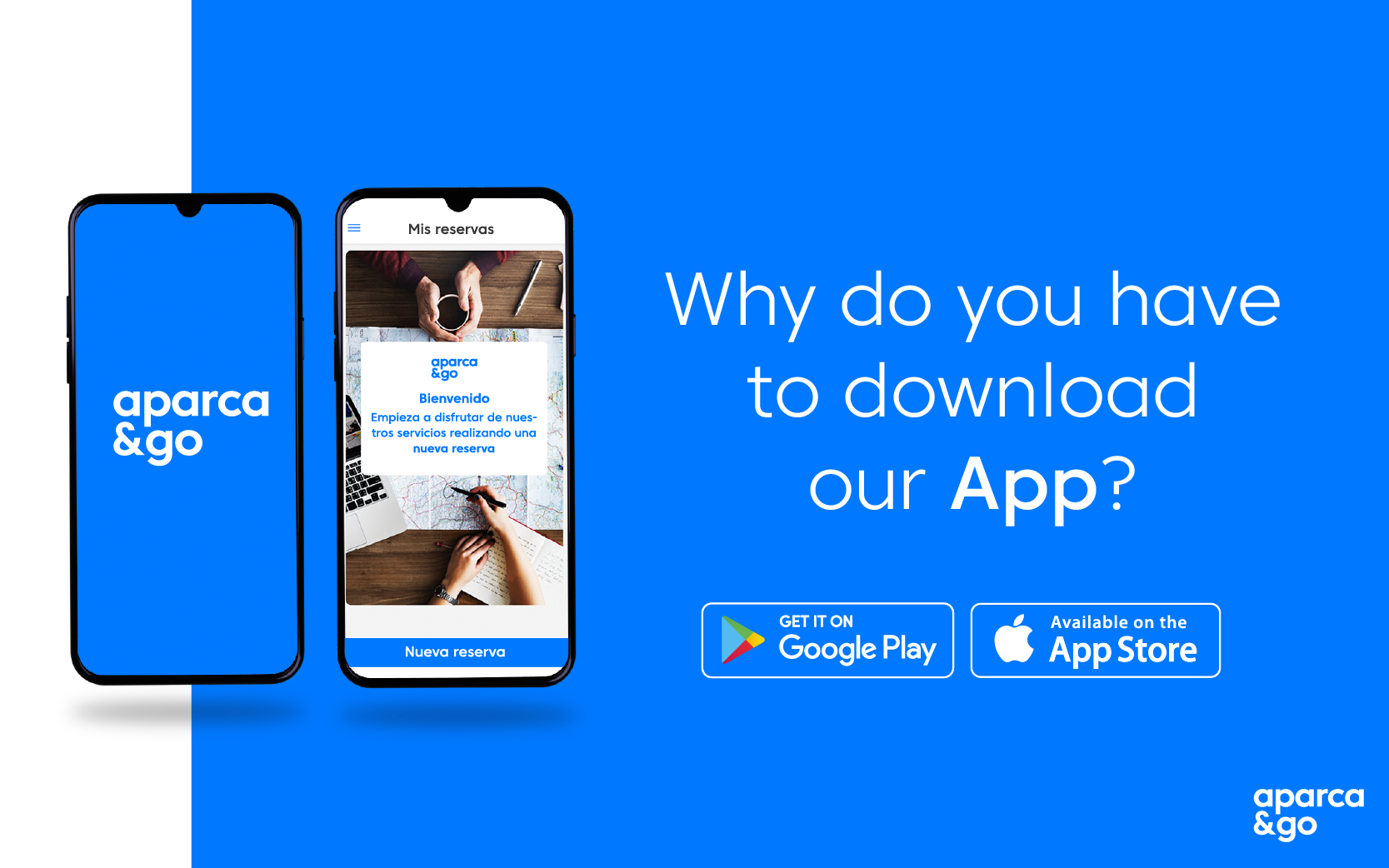 aparca&go mobile App and enjoy all its advantages.
If you are wondering why you should download our App, the answer is very simple: because with this application it is even more convenient to manage and modify your reservations, enjoy the Premium service, exchange your points for discounts, and above all, because you will be able to access all the advantages and exclusive services created for thecustomers who use our application to make their reservations.
This app is easy to use, useful and manageable and will allow you to manage your reservations comfortably, efficiently and autonomously from your mobile. It is ideal for all travelers who want to save time and value being able to have control of their reservation, at all times, to be able to process changes and unforeseen events independently.
In addition to being a useful and comfortable tool, you also have a series of benefits that only registered customers of the app can enjoy. We tell you about them, in case you don't know them yet:
1. Make your reservations from the App. You can book any aparca&go service from the app. By accessing your profile on our app with your user, you will be able to make your reservations quickly, and manage and modify them whenever you need to. If you want to change the return time or there is a change in your flight plan, you will not have to call to make changes, you can do it yourself from the application.
2. You will have access to all the contact details of the car park, the indications of your reserved services and immediate contact with the customer service . We know that your car is important to you, that's why we treat it as well as if it were ours. So that you put worries aside and focus on enjoying and making the most of your time, the app will keep you informed at all times of the services carried out in your car, so you can follow up wherever you are. Even if you have contracted any Car Service service and want to ask a question, you will have direct access to your personal mechanic in case you have any questions or want to make a specific comment. As you can see, you will have all the information about your service in just a few minutes. The details of the reserved parking, indications on the status of your chosen extra services and access to your customer 's contact service . All inclusive!
3. We make the payment process easier. Through the App you can pay for your reservation minutes before leaving the car park, without having to go to the ticket office. In addition, all your invoices will be stored so that you can access your history whenever you want.
4. Say goodbye to queues. Within the aparca&go App you can get the exclusive pass, for our fast access lane and exit from the car park , forget about waiting and queues. With this App they will be history.
5. Request the collection and delivery service of your vehicle in the Premium service. You can notify the driver that you are arriving, so that he can pick you up or deliver the car to you. If you have contracted the Premium Service, by pressing just one button, you will activate the collection and delivery service for your vehicle, to have your car ready and waiting for you when you leave the terminal. More Premium, impossible!
6. Accumulate euros . With the app, you can save while traveling. By booking through the app you will receive promotions and unique offers as a registered user, access the newsletter with relevant and exclusive information on travel, products and services, stay informed of news from our services and get bonuses of between 3% to 6% on our services.
7. Manage your expenses. You will be able to see your old and future reservations, tickets or invoices and make changes to dates and times.
Sounds good right?
Download the aparca&go App now and start monitoring your reservations online, managing them, whenever you need it, autonomously, and enjoying all the advantages that only registered customers have.
Install the App and the rest, leave it in our hands!
The aparca&go App is available for both Apple and Google Play